Sign In to the Member Section
August 2020 Events
August 4 | Los Angeles World Affairs Council & Town Hall | Business Ethics: New Rules of Engagement
In the face of a pandemic and racial injustice protests, corporate ethics has been tested. With COVID-19, business leaders had to answer questions without a playbook. In recent weeks, businesses are under a microscope as employers and corporate citizens. Rob Chesnut, former chief ethics officer and general counsel at Airbnb, will discuss his new book, "Intentional Integrity: How Smart Companies Can Lead An Ethical Revolution." What is an established integrity code? How do you lead a company with integrity in a crisis? Are the rules different for internet-based companies? What about the ethical use of social media?
Chesnut will be joined by moderator Heather D. Nevitt, editor-in-chief of Corporate Counsel, Inside Counsel and Global Leaders in Law, a private network for general counsel at ALM Media. She oversees the news coverage and thought leadership that focuses on the in-house legal community and the evolving role and global nature of general counsels. Nevitt is also a licensed attorney and practiced law for several years before joining ALM in 2005.
August 5 | World Affairs (Northern California) | How Big Tech Is Transforming Our World
Alexis Wichowski, author of "The Information Trade: How Big Tech Conquers Countries, Challenges Our Rights, and Transforms Our World," will discuss how tech giants like Facebook, Google, Amazon and Microsoft, armed with wealth and power rivaling that of nation states, are transforming the world as we know it. While these "net states," companies operating as sovereign entities, provide us the luxury of a tech-enabled life, concerns about our privacy and security come into question. What are they doing with the data they collect from us and how can we better protect ourselves?
As these "net states" act more and more like countries, they are transforming how our world operates and how we determine our own rights as both users and citizens. Dr. Wichowski argues we need a new paradigm to control our relationship with tech giants before our future is irreversibly altered. The question is, who will design that paradigm? Us or them?
August 6 | World Affairs Council of Charlotte | The Button: The New Nuclear Arms Race and Presidential Power from Truman to Trump
The President has the power to turn the world to ash in minutes with a single "push of a button" without permission from Congress or any other defense authority in the United States.
Since the Truman administration, America has been one "push of a button" away from nuclear war—a decision that rests solely in the hands of the President. Without waiting for approval from Congress or even the Secretary of Defense, the President can unleash America's entire nuclear arsenal.
Almost every governmental process is subject to institutional checks and balances. Why is potential nuclear annihilation the exception to the rule? For decades, glitches and slip-ups have threatened to trigger nuclear winter: misinformation, false alarms, hacked warning systems, or even an unstable President. And a new nuclear arms race has begun, threatening us all. At the height of the Cold War, Russia and the United States each built up arsenals exceeding 30,000 nuclear weapons, armed and ready to destroy each other—despite the fact that just a few hundred are necessary to end life on earth.

Join WAC Charlotte on Thursday, August 6th at 2 p.m. EDT for a conversation with William Perry, Secretary of Defense in the Clinton administration and Undersecretary of Defense for Research and Engineering in the Carter administration, and Tom Z. Collina, the Director of Policy at Ploughshares Fund as they share historical insight into the nuclear launch authority and the threat of nuclear war in the world today through interviews with former President Bill Clinton, former Secretary of Defense Jim Mattis, and others.
August 13 | World Affairs Council of Orange County | Becoming Kim Jong Un: N.Korea's Enigmatic Dictator
Becoming Kim Jong Un: A CIA Officer's Insights into North Korea's Enigmatic Young Dictator
With Dr. Jung H. Pak, a senior fellow and the SK-Korea Foundation Chair in Korea Studies at the Brookings Institution.
Webinar Hosted by the World Affairs Council of Orange County
August 13th, 2020
1:15pm PST / 4:15pm EST
Registration: https://bit.ly/3hR3Jw7

Dr. Jung H. Pak is a senior fellow and the SK-Korea Foundation Chair in Korea Studies at the Brookings Institution. She focuses on the national security challenges facing the United States and East Asia, including North Korea's weapons of mass destruction capabilities, the regime's domestic and foreign policy calculus, and internal stability. She also has expertise in US-South Korea relations and northeast Asia geopolitical dynamics.
Her Brookings Institution essay "The Education of Kim Jong Un" cemented her status as the go-to authority on the calculating young leader.
Prior to Brookings, Pak held senior positions at the Central Intelligence Agency and the Office of the Director of National Intelligence where she led the U.S. intelligence community's strategic analysis on Korea issues as the Deputy National Intelligence Officer. Prior to her work in national security, she taught history at Hunter College in New York City and studied in South Korea as a Fulbright Scholar. A graduate and former trustee of Colgate University, Pak received her PhD in U.S. history from Columbia University.
This program is moderated by Dr. Stephan Haggard, the Krause Distinguished Professor at the School of Global Policy and Strategy at the University of California San Diego and director of the Korea-Pacific Program.
Purchase book at: https://bit.ly/30dHdaF
August 13 | Vermont Council on World Affairs | Tensions in the Taiwan Strait
An independently governed island off of China's southern cost, Taiwan is in a unique diplomatic, geographic, and economic position. The People's Republic of China classifies the island as a province, while in Taiwan political leaders continue to operate and move forward as an independent democratic government. How does the U.S. engage diplomatically with Taiwan and how will future relations develop? How does Taiwan position itself in the midst of Chinese and U.S. economic competition?
Join the Vermont Council on World Affairs as they host representatives from the Center for Strategic and International Students and the Taiwanese Economic and Cultural Office in Boston to address these questions and more.
August 18 | World Affairs Council of Dallas/Fort Worth | Shields of the Republic: The Triumph and Peril of America's Alliances
Is America's alliance system so quietly effective that politicians and voters fail to appreciate its importance in delivering the security they take for granted?
For the first century and a half of its existence, the United States had just one alliance--a valuable but highly controversial military arrangement with France. Largely out of deference to George Washington's warnings against the dangers of "entangling alliances," subsequent American presidents did not consider entering another until the Second World War. Then everything suddenly changed. Between 1948 and 1955, US leaders extended defensive security guarantees to twenty-three countries in Europe and Asia. Seventy years later, the United States had allied with thirty-seven.
In Shields of the Republic, Mira Rapp-Hooper reveals the remarkable success of America's unprecedented system of alliances. During the Cold War, a grand strategy focused on allied defense, deterrence, and assurance helped to keep the peace at far lower material and political costs than its critics allege. When the Soviet Union collapsed, however, the United States lost the adversary the system was designed to combat. Its alliances remained without a core strategic logic, leaving them newly vulnerable.
Today the alliance system is threatened from without and within. China and Russia seek to break America's alliances through conflict and non-military erosion. Meanwhile, US politicians and voters are increasingly skeptical of alliances' costs and benefits and believe we may be better off without them. But what if the alliance system is a victim of its own quiet success? Rapp-Hooper argues that America's national security requires alliances that deter and defend against military and non-military conflict alike. The alliance system is past due for a post-Cold War overhaul, but it remains critical to the country's safety and prosperity in the 21st century.

August 26 | World Affairs Council of Orange County | Webinar With Eliot L. Engel and Saed Moujtahed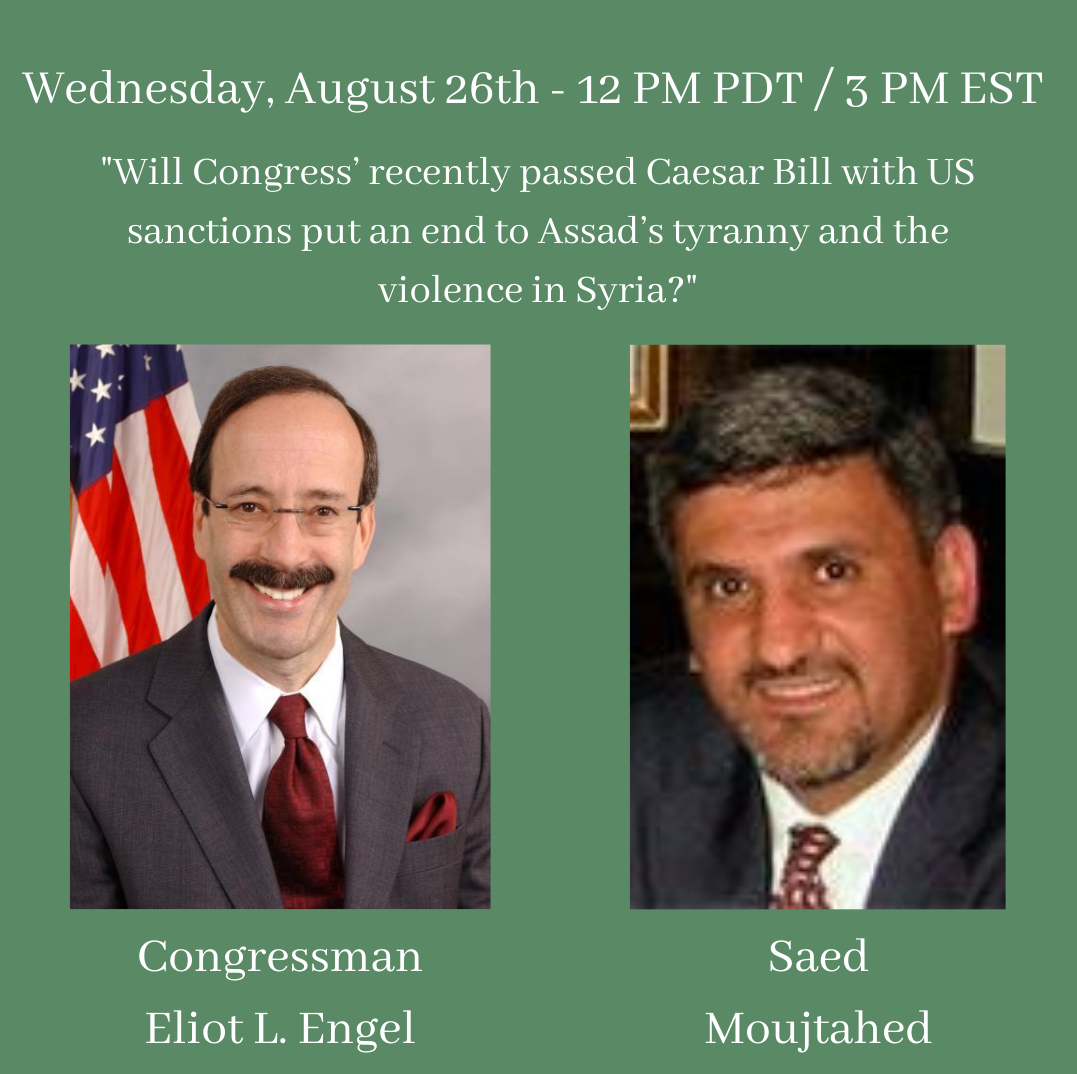 Wednesday, August 26th, 2020 – 12 PM PDT / 3 PM EST
The World Affairs Council of Orange County Presents:
Will Congress' recently passed Caesar Bill with US sanctions put an end to Assad's tyranny and the violence in Syria?
A Free Webinar with panelists Congressman Eliot L. Engel and Saed Moujtahed
Congressman Eliot Engel represents New York's 16th Congressional District in the United States House of Representatives, which includes the northern Bronx and parts of southern Westchester County.
Congressman Engel is currently in his 31st year as a member of Congress. In 2019 he became the Chairman of the House Foreign Affairs Committee, having previously served as the Committee's Ranking Member since 2013. He also serves on the Energy and Commerce Committee including the Subcommittee on Health, and the Subcommittee on Energy and Power. The Congressman was also the founder of the Oil and National Security Caucus, which seeks to reduce American reliance on foreign oil so that we can achieve true energy independence.
Congressman Engel has authored many important pieces of legislation in his time in office, including the Syria Accountability and Lebanese Sovereignty Restoration Act of 2003, which successfully sparked international pressure on Syria to withdraw from Lebanon. He was able to pass the measure during a time when Republicans controlled the presidency and both houses of Congress, a testament to his bipartisan approach to politics and unifying message.
In April 2013, Congressman Engel was one of the first members of Congress to call for arming and training the moderate, vetted Syrian opposition. He introduced the Free Syria Act to establish a program to train and equip vetted units of the Free Syria Army and to spur the transition toward a more prosperous and peacefulfuture in Syria. He was a strong supporter of subsequent efforts to work with the Syrian opposition.
As barrel bombs rained on Syrian civilians, Congressman Engel worked to pass an amendment to the House version of the 2016 National Defense Authorization Act that would require the Defense Department to consider the feasibility of imposing a protective no-fly zone in Syria to prevent the regime and its supporters from bombarding civilians from the air.
Seeing the unending violence in Syria, Congressman Engel has since introduced the Caesar Syria Civilian Protection Act, which would impose new sanctions on supporters of Syria's Assad Regime, encourage negotiations to end the crisis, and kick off investigations into the eventual prosecution of war criminals. The bill was named for the former Syrian military photographer, codenamed "Caesar," who defected to the opposition after documenting Assad's torture of the Syrian people.
Saed Moujtahed is an electrical engineer, and founder of Apex Consulting, an engineering consulting firm.
He is also an activist who has put the Arab-American community on the American political map by volunteering his time to empower Arab-Americans to exercise and protect their rights in the U.S. and to have a strong political voice.
He has worked tirelessly with Congress to defend the rights of the Arab and Muslim American communities against stereotypes and labeling. He successfully campaigned for Congresswoman Cynthia McKinney for her 2004 election, which she won.
Saed Moujtahed has been a Syrian-American activist from the beginning of the Syrian revolution. He established and chaired the Government Relations Committee for the Syrian American Council (SAC) for nearly a year. During the last five years, he spent most of his time lobbying our Administration to support the Syrian people in attaining their struggle for freedom.
He traveled to many cities throughout the U.S. to rally the Syrian-American community's support and to motivate them to overcome the psychological fear that most Syrians inherited from this barbaric regime for over 48 years.
Currently, he is President of the Syrian Institute for Progress (SIP), an organization that focuses on addressing and supporting the needs of Syrian refugees. He launched a successful program, Burnt Children Relief Foundation (BCRF) bringing Syrian burnt children to the U.S. for treatments.
In addition to continuing to provide information and advice to our Administration on the dynamic changes of the Syrian revolution and the opposition in order to help find the most suitable and lasting solution to the crisis.