December 1 | Colorado Springs World Affairs Council | Battlegrounds: The Fight to Defend the Free World
Across multiple administrations since the end of the Cold War, American foreign policy has been misconceived, inconsistent, and poorly implemented. As a result, America and the free world have fallen behind rivals in power and influence. Meanwhile threats to security, freedom, and prosperity, such as nuclear proliferation and jihadist terrorism have grown.
H. R. McMaster was the 26th assistant to the president for National Security Affairs. He served as a commissioned officer in the United States Army for thirty-four years before retiring as a Lieutenant General in June 2018.
From 2014 to 2017 McMaster designed the future army as the director of the Army Capabilities Integration Center and the deputy commanding general of the US Army Training and Doctrine Command (TRADOC). As commanding general of the Maneuver Center of Excellence at Fort Benning, he oversaw training and education for the Army's infantry, armor, and cavalry force. His led soldiers and organizations in wartime including command of a multi-national task force in Kabul, Afghanistan; the 3rd Armored Cavalry Regiment in Iraq; and Eagle Troop, 2nd Armored Cavalry Regiment in Operation Desert Storm. McMaster also served overseas as advisor to the most senior commanders in the Middle East, Iraq, and Afghanistan.
McMaster was an assistant professor of history at the United States Military Academy from 1994 to 1996 where he taught undergraduate courses in military history and history of the Korean and Vietnam Wars. He also taught a graduate course on the history of military leadership for officers enrolled in the Columbia University MBA program.
He is author of the award-winning book, Dereliction of Duty: Lyndon Johnson, Robert McNamara, the Joint Chiefs of Staff and the Lies that Led to Vietnam and Battlegrounds: The Fight to Defend the Free World. He has published scores of essays, articles, and book reviews on leadership, history, and the future of warfare in many publications including Foreign Affairs, The Wall Street Journal, and The New York Times. He was a contributing editor for Survival: Global Politics and Strategy from 2010 to 2017.
December 2 | World Affairs Council of New Hampshire | The Future of America's Global Leadership
On Wednesday, December 2nd at 6PM, join the World Affairs Council of New Hampshire in welcoming former Secretary of Defense Chuck Hagel for Night Two of our premier annual fundraiser, our Fall Forum! Our second night with Secretary Hagel will feature a conversation on American Foreign Policy and what impacts the results of the Presidential election will have moving forward for the United States as a leader in the world.
Following Secretary Hagel's remarks, a moderated Question and Answer session will be held. All questions can be emailed to council@wacnh.org, or sent through the messenger app on our website, so purchase your tickets at wacnh.org and we hope to see you there!

The Annual Fall and Spring Forums are WACNH's premier fundraising events for the year and helps us raise funds to continue our work and bring you a full year's worth of awesome programming and events. Due to the ongoing pandemic forcing us to cancel our Spring Forum in June, we will be bringing two nights of awesome virtual programming for you all this season.
December 8 | World Affairs Council of New Hampshire | GTP: Re-Establishing United States Global Climate
Join the World Affairs Council of New Hampshire and the League of Conservation Voters for the final installment in our virtual Global Tipping Points speaker series this Fall! Our December edition will feature President Obama's chief climate negotiator and current Brookings nonresident senior fellow, Todd Stern, as well as President of the American Security Project, Brigadier General Stephen Cheney, as they believe a strategy to combat climate change will look like under a new Biden administration and what the election's results mean for the world's climate future.
This discussion will be moderated by Rob Werner of LCV and WACNH Board Member Maura Sullivan.

Following the opening remarks, a moderated Question and Answer session will be held. All questions can be emailed to council@wacnh.org, posted in either of the YouTube or Facebook Live chats, or the messenger app on our website, so tune in at wacnh.org and we hope to see you there!
December 9 | World Affairs Council of Orange County | Webinar With John Allen & Darrell West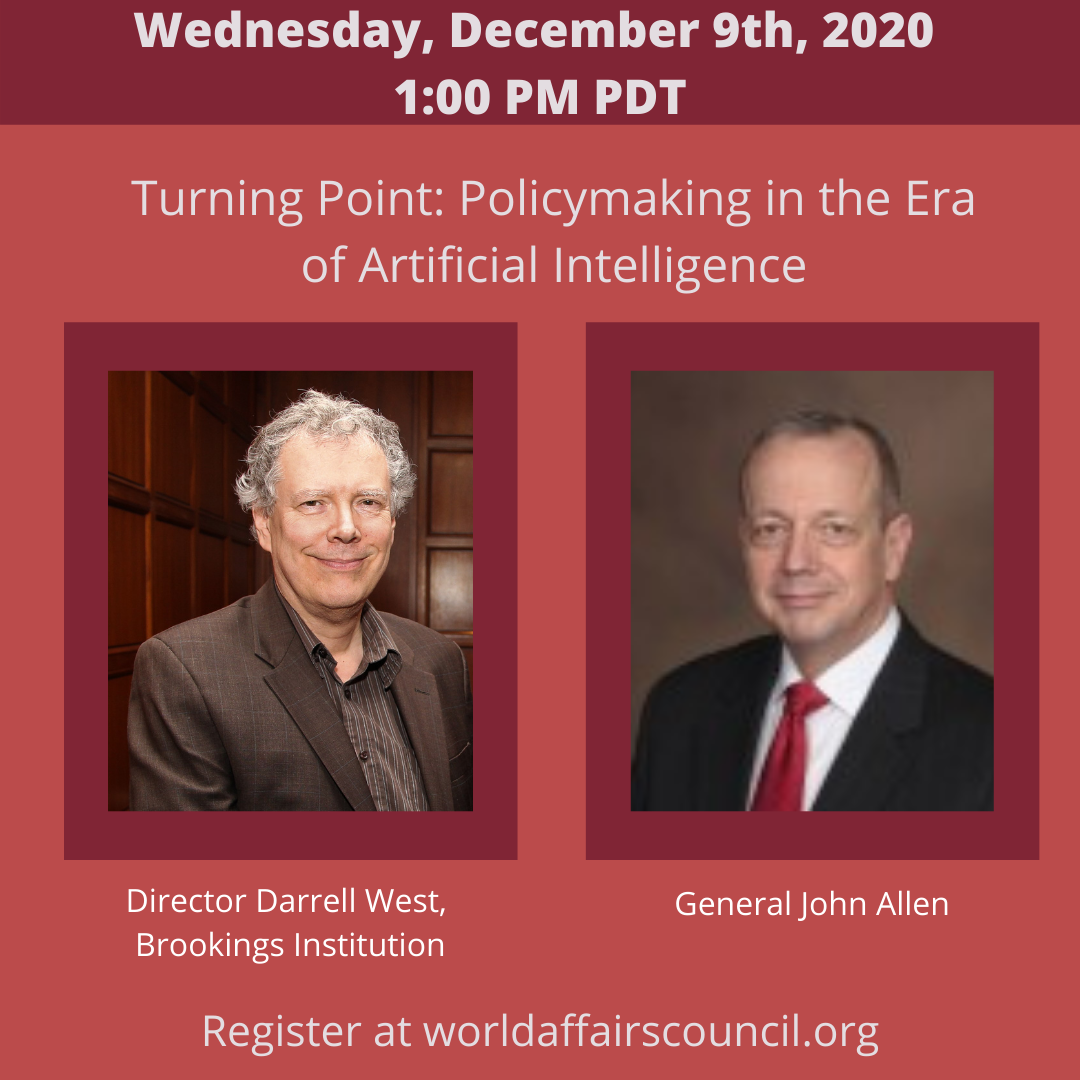 Wednesday, December 9th, 2020 – 1:00 PM PDT
The World Affairs Councils of Orange County Presents:
Turning Point: Policymaking in the Era of Artificial Intelligence
A free webinar with General John Allen & Director Darrell West, Brookings Institution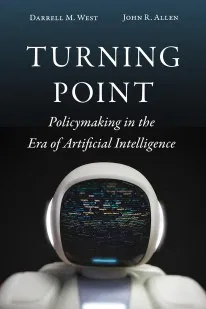 John Rutherford Allen assumed the presidency of the Brookings Institution in November 2017, having most recently served as chair of security and strategy and a distinguished fellow in the Foreign Policy Program at Brookings. Allen is a retired U.S. Marine Corps four-star general and former commander of the NATO International Security Assistance Force (ISAF) and U.S. Forces in Afghanistan.
Beyond his operational and diplomatic credentials, Allen has led professional military educational programs, including as director of the Marine Infantry Officer Program and commanding officer of the Marine Corps Basic School. He twice served at the United States Naval Academy, first as a military instructor, where he was named instructor of the year in 1990, and later as commandant of midshipmen; the first Marine Corps officer to hold this position. Allen was the Marine Corps fellow to the Center for Strategic and International Studies and the first Marine officer to serve as a term member of the Council on Foreign Relations, where today he is a permanent member.
Among his other affiliations, Allen is a senior fellow at the Merrill Center of the Johns Hopkins School of Advanced International Studies and a senior fellow at the Johns Hopkins Applied Physics Laboratory. He is an "Ancien" of the NATO Defense College in Rome, and a frequent lecturer there. Allen is the recipient of numerous U.S. and foreign awards.
He holds a Bachelor of Science in operations analysis from the U.S. Naval Academy, a Master of Arts in national security studies from Georgetown University, a Master of Science in strategic intelligence from the Defense Intelligence College (now National Intelligence University), and a Master of Science in national security strategy from the National Defense University.
Darrell M. West is the Vice President and Senior Fellow of Governance Studies at the Brookings Institution. He holds the Douglas Dillon Chair in Governance Studies. Previously, he was the John Hazen White Professor of Political Science and Public Policy and Director of the Taubman Center for Public Policy at Brown University. His current research focuses on American politics, technology policy, and artificial intelligence.
West is the author of 25 books including Turning Point: Policymaking in the Era of Artificial Intelligence (Brookings, 2020; with John Allen), Divided Politics, Divided Nation: Hyperconflict in the Trump Era (Brookings, 2019), The Future of Work: Robots, AI, and Automation (Brookings, 2018); Megachange: Economic Disruption, Political Upheaval, and Social Strife in the 21st Century (Brookings, 2016), Billionaires: Reflections on the Upper Crust (Brookings, 2014), Digital Schools (Brookings, 2012), The Next Wave: Using Digital Technology to Further Social and Political Innovation (Brookings, 2011), Brain Gain: Rethinking U.S. Immigration Policy (Brookings, 2010), Digital Medicine: Health Care in the Internet Era (Brookings, 2009), Digital Government: Technology and Public Sector Performance, (Princeton University Press, 2005), and Air Wars: Television Advertising in Election Campaigns (Congressional Quarterly Press, 2013), among others.
He is the winner of the American Political Science Association's Don K. Price award for best book on technology (for Digital Government) and the American Political Science Association's Doris Graber award for best book on political communications (for Cross Talk). His books have been translated into Chinese, Japanese, and Korean, and he has delivered lectures in numerous countries around the world.