Sign In to the Member Section
April 2021 Events
April 1 | World Affairs Council of Orange County | Myanmar Coup – Democracy Under Threat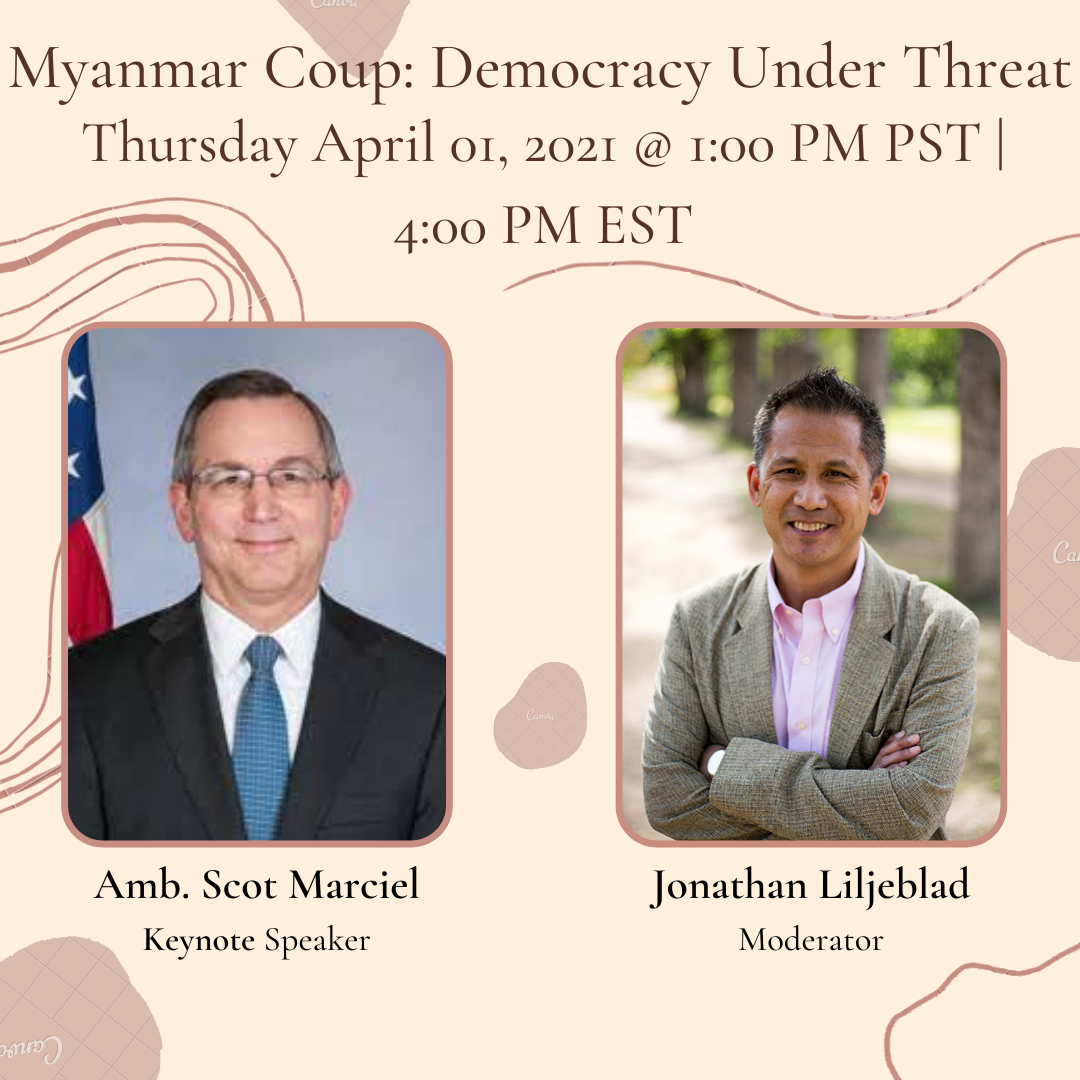 Thursday, April 01, 2021 @ 1:00 PM PST | 4:00 PM EST | 7:00 AM AEDT
The World Affairs Council of Orange County Presents:
Myanmar Coup – Democracy Under Threat
Ambassador Scot Marciel joins the Walter H. Shorenstein Asia-Pacific Research Center (APARC) as Visiting Scholar, Visiting Practitioner Fellow on Southeast Asia, for the 2020-2021 academic year. He served as U.S. Ambassador to Myanmar from March 2016 through May 2020, leading a mission of 500 employees during the difficult Rohingya crisis and a challenging time for both Myanmar's democratic transition and the United States-Myanmar relationship. Prior to serving in Myanmar, Ambassador Marciel served as Principal Deputy Assistant Secretary for East Asia and the Pacific at the State Department, where he oversaw U.S. relations with Southeast Asia.
From 2010 to 2013, Scot Marciel served as U.S. Ambassador to Indonesia, the world's fourth most populous country. He led a mission of some 1000 employees, expanding business ties, launching a new U.S.-Indonesia partnership, and rebuilding U.S.-Indonesian military-military relations. Prior to that, he served concurrently as the first U.S. Ambassador for ASEAN Affairs and Deputy Assistant Secretary of State for Southeast Asia from 2007 to 2010.
Ambassador Marciel is a career diplomat with 35 years of experience in Asia and around the world. In addition to the assignments noted above, he has served at U.S. missions in Turkey, Hong Kong, Vietnam, Brazil and the Philippines. At the State Department in Washington, he served as Director of the Office of Maritime Southeast Asia, Director of the Office of Mainland Southeast Asia, and Director of the Office of Southern European Affairs. He also was Deputy Director of the Office of Monetary Affairs in the Bureau of Economic and Business Affairs.
Ambassador Marciel earned an MA from the Fletcher School of Law and Diplomacy, and a BA in International Relations from the University of California at Davis. He was born and raised in Fremont, California, and is married with two children.
Jonathan Liljeblad received a PhD and JD from the University of Southern California (USC), an MS from the University of Washington (UW), and a BS from the California Institute of Technology (Caltech).
His research largely focuses on rule-of-law, with case studies from human rights and environmental issues. His fieldwork is mostly in Myanmar. Generally, his research falls within the fields of international law, rule-of-law, human rights, environmental law, law & development, and law & society.
Due to the empirical nature of his research, his work connects academia, government, and civil society; seeks interdisciplinary, transboundary, and cross-cultural collaborations; and endeavors to nurture direct impact upon policymakers and societal leaders.
He was born in Myanmar but grew up in Sweden and the United States. He received an Endeavour Research Grant (2018) and was a Fulbright Scholar (2014-2015). He currently is working on projects supported by the International Commission of Jurists (ICJ), Danish Institute of Human Rights (DIHR), Konrad Adenauer Stiftung (KAS), and the United Nations Development Programme (UNDP).
April 8 | Los Angeles World Affairs Council & Town Hall | A Conversation with Dana Perino
Join the Los Angeles World Affairs Council & Town Hall and the Pepperdine School of Public Policy, for a conversation with former White House Press Secretary and Fox News Host Dana Perino, moderated by Charity Wallace, founder and president of Wallace Global Impact.
Dana Perino will share her thoughts on the current state of our nation and the most valuable lessons she learned from working at the White House. As a senior White House official during the 9/11 attacks, Perino will discuss her experience working through a major national crisis, how to manage high-stress environments and trials in your career, and also share her advice for those entering the workforce or shifting careers in light of COVID-19.
You can purchase Dana Perino's new book "Everything Will Be Okay" from Chevalier's Bookstore here.
Dana Perino is co-host of one of the most popular shows on cable television, Fox News' The Five, co-anchor of America's Newsroom, an analyst for Fox News election coverage & specials, and the #1 New York Times bestselling author of And the Good News Is...Lessons and Advice from the Bright Side and Let Me Tell You About Jasper. Perino is the former White House Press Secretary for President George W. Bush, where she was the first Republican woman to hold the job. She served for over seven years in the administration, including at the Department of Justice after the terrorist attacks on 9/11. Perino lives in Manhattan with her husband, Peter McMahon, and Jasper, America's Dog.
Charity Wallace is the founder and president of Wallace Global Impact. Ms. Wallace most recently served as the Senior Vice President for the Office of Strategic Initiatives and Managing Director of Global Women's Issues at U.S. International Development Finance Corporation (DFC).
Thank you to our event partner, the Pepperdine School of Public Policy.
April 9 | World Affairs Council of Hilton Head | Richard Stengel
Disinformation is as old as humanity. When Satan told Eve nothing would happen if she bit the apple, that was disinformation. But the rise of social media has made disinformation even more pervasive and pernicious in our current era. In a disturbing turn of events, governments are increasingly using disinformation to create their own false narratives, and democracies are proving not to be very good at fighting it.
During the final three years of the Obama administration, Richard Stengel, the former editor of Time and an Under Secretary of State, was on the front lines of this new global information war. At the time, he was the single person in government tasked with unpacking, disproving, and combating both ISIS's messaging and Russian disinformation. Then, in 2016, as the presidential election unfolded, Stengel watched as Donald Trump used disinformation himself, weaponizing the grievances of Americans who felt left out by modernism. In fact, Stengel quickly came to see how all three players had used the same playbook: ISIS sought to make Islam great again; Putin tried to make Russia great again; and we all know about Trump.
April 13 | World Affairs Council of Western Michigan | HRH Reema Bandar, Saudi Ambassador to the U..S.
The first woman to ever hold the title of Ambassador for the country of Saudi Arabia, HRH Ambassador Reema Bandar Al-Saud will cover many topics regarding Saudi-U.S. relations and the country's place in the world.
This is an important conversation for those interested in this bilateral relationship; global business considerations, including how they affect Michigan businesses; and the cultural significance of Saudi Arabia regionally and worldwide.
April 15 | World Affairs Council of Western Michigan | KDL Series: "Towards a Newly Vital Midwest"
Austin will share insights from his 2020 Chicago Council on Global Affairs Report: A Vital Midwest, and the opportunities and challenges facing the Midwest in building newly prosporous, inclusive, and reslient communities.
Then, he will discuss how Covid-19 has changed the picture, and extend the discussion to include the common challenges and opportunities facing similar historic industrial regions around the world.
April 15 | World Affairs Council of Western Massachusetts | National Security Priorities Under Biden
Western New England University School of Law Dean Sudha Setty will speak at a virtual event on National Security Priorities in Biden's First 100 Days on Thursday, April 15, 2021 at Noon (EDT).
Sudha Setty became Dean of the School of Law in 2018, and has served on the faculty since 2006. Dean Setty has taught courses in Constitutional Law, Law & Terrorism, National Security & Government Accountability, Contracts, and Business Organizations. She was a visiting scholar at the University of Cape Town Faculty of Law in 2018, a Fulbright Senior Specialist at the Chinese University of Hong Kong Faculty of Law in 2014, and a Visiting Professor at the University of Connecticut School of Law in 2011. She was awarded Western New England Law School's Catherine J. Jones Professor of Year Award in 2009, 2016, and 2018, was recognized in 2015 as Trailblazer by the South Asian Bar Association of Connecticut, and received the 2017 Tapping Reeve Legal Educator Award from the Connecticut Bar Association. In July 2018, she was elected to membership in the American Law Institute.
This event is generously sponsored by Glenmeadow, Sir Speedy, and Wilbraham and Monson Academy.
April 15 | World Affairs Council of Orange County | Webinar With Stephen Wertheim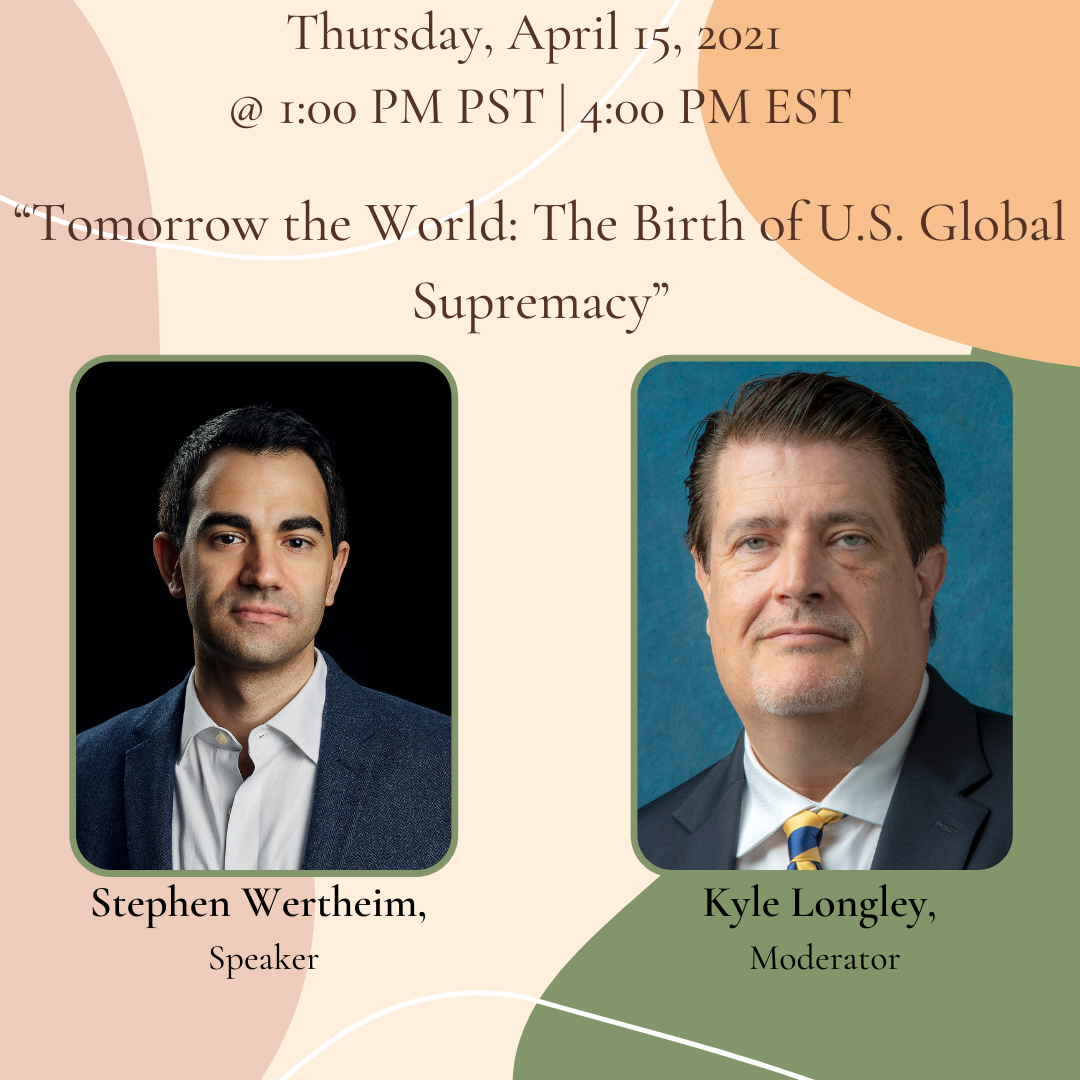 Thursday, April 15, 2021 @ 1:00 PM PST | 4:00 PM EST
The World Affairs Council of Orange County Presents:
Tomorrow the World: The Birth of U.S. Global Supremacy
Stephen Wertheim is a historian of the United States in the world. He directs grand strategy at the Quincy Institute for Responsible Statecraft, which he co-founded with a mission to move U.S. foreign policy away from endless war and toward vigorous diplomacy in the pursuit of peace.
He is author of Tomorrow, the World: The Birth of U.S. Global Supremacy (Harvard University Press, 2020) and academic articles on such topics as U.S.strategy, international law, world organization, and humanitarian intervention.
Wertheim regularly writes about current events in Foreign Affairs, the New York Review of Books, the New York Times, the Washington Post, and elsewhere. Prospect magazine named him one of "the world's 50 top thinkers for the Covid-19 age."
He previously held faculty positions at Columbia University and Birkbeck, University of London. He received a PhD in History from Columbia in 2015.
Kyle Longley is the Director of the War and Society Program and professor of history at Chapman University, recently joining the faculty after more than two decades at Arizona State University. He specializes in U.S. military history, U.S. foreign relations, and modern American politics. He is the author or editor of nine books on topics ranging from U.S.-Latin American relations to southern politics and the American presidency. His most recent works include the prize winning, The Morenci Marines: A Tale of a Small Town and the Vietnam War, Grunts: The American Combat Soldier in Vietnam, LBJ's 1968: Power, Politics, and the Presidency in America's Year of Upheaval, and In Harm's Way: A History of the American Military Experience. He also is a prize-winning teacher, receiving the Centennial Professorship for outstanding teaching by the Associated Students of Arizona State University and the Zebulon Pearce Award for outstanding professor in the Humanities at ASU.