Sign In to the Member Section
May 2021 Events
May 4 | World Affairs Council of Western Michigan | "Canada, U.S., & Michigan: Mapping the Landscape"
Register at https://www.worldmichigan.org/wtw2021
Joseph Comartin was appointed as Canada's Consul General to Detroit in autumn of 2018, and is responsible for the states of Michigan, Ohio, Kentucky, and Indiana. His career spans the private and public sectors, and most recently academia.
Maryscott (Scotty) Greenwood is the CEO of the Canadian American Business Council. Greenwood also leads Crestview Strategy US where she serves as Partner and the Managing Director. Scotty is also a member of the Board of Directors of Spartan Bioscience, The Foundation for Art & Preservation in Embassies, and the Future Borders Coalition.
May 4 | World Affairs Council of Western Massachusetts | Global Britain and the UK-US Special Relationship
Dr. Peter Abbott, OBE, British Consul General to New England will speak to us on Tuesday, May 4 at 2:00 PM EDT on Global Britain and the UK-US Special Relationship. Dr Abbott has been a member of Her Majesty's Diplomatic Service for 15 years. Before becoming British Consul General to New England in 2020, he served as Counsellor at the British High Commission in Islamabad, Pakistan, with operational oversight of the largest mission in the UK's overseas diplomatic network. Deputy Consul Tom Nickalls will also take part in this presentation.
This event is free.
May 6 | World Affairs Council of Orange County | Webinar With Jack Devine & Jonathan Ward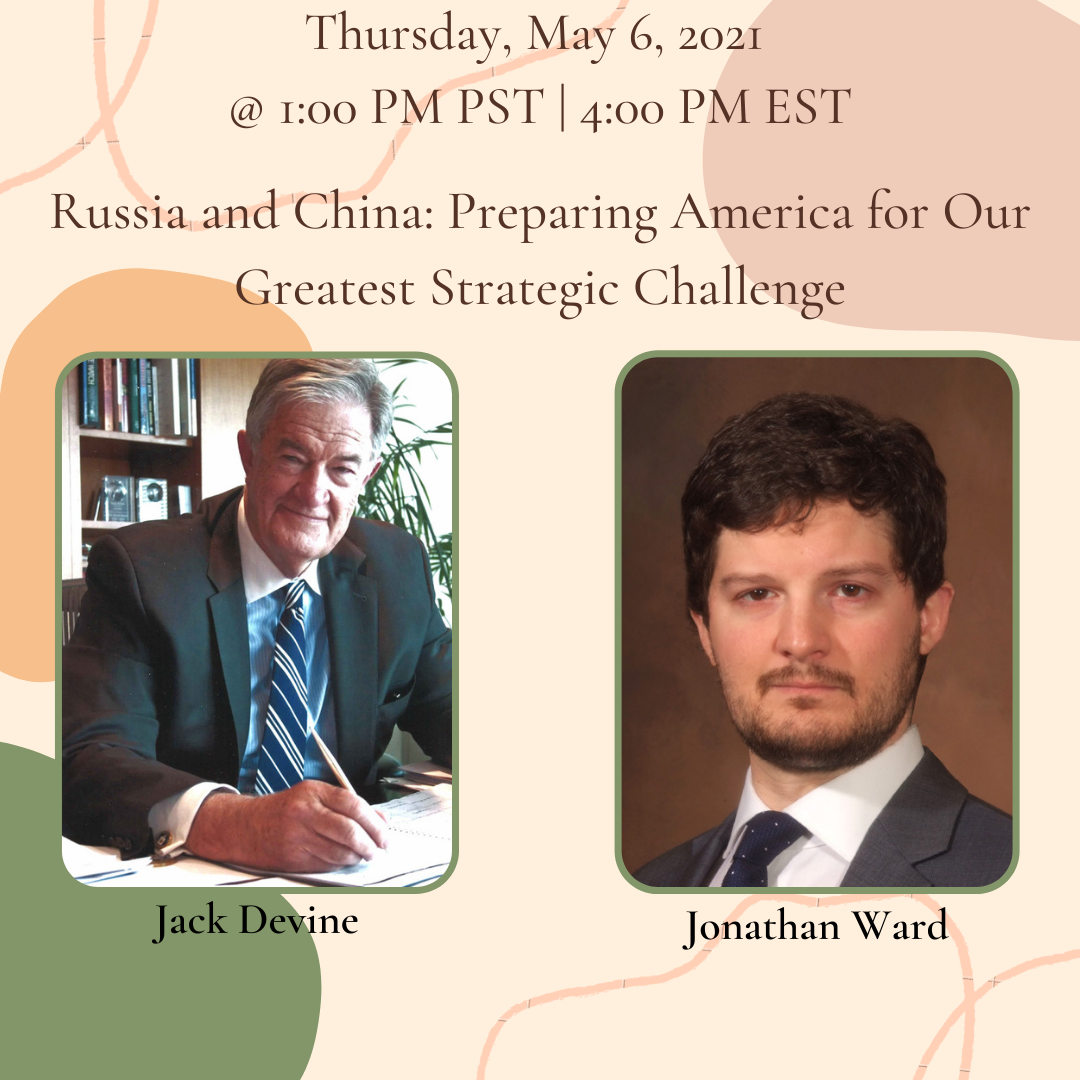 Thursday, May 6, 2021 @ 1:00 PM PST | 4:00 PM EST
The World Affairs Council of Orange County Presents:
Russia and China: Preparing America for Our Greatest Strategic Challenge
Jack Devine is a thirty-two-year veteran of the Central Intelligence Agency who served at the pinnacle of his career as the CIA's top spymaster—Acting Deputy Director of the CIA's operations outside the United States, in which capacity he had supervisory authority over thousands of CIA employees involved in sensitive missions throughout the world. He is also a founding partner and the president of the Arkin Group, an international risk consulting and intelligence firm. Mr. Devine's international experience with the U.S. government included postings to Latin America and Europe. During his more than 30 years with the CIA, Mr. Devine was involved in organizing, planning and executing countless sensitive projects in virtually all areas of intelligence, including analysis, operations, technology and management.
He is the recipient of the Agency's Distinguished Intelligence Medal and several meritorious awards. He is a recognized expert in Intelligence matters and has written Op-Ed articles for The Washington Post, The Wall Street Journal, The Financial Times, Foreign Affairs Magazine, The World Policy Journal, Politico and The Atlantic Monthly. He has also made guest appearances on National Press Club, CNN, CBS, NBC, MSNBC, Fox News, CSPAN, Bloomberg News as well as the History and Discovery channels, PBS, NPR and ABC Radio.
Dr. Jonathan D. T. Ward is an internationally recognized expert on Chinese global strategy and US-China competition. He earned his PhD in China-India relations at the University of Oxford and his undergraduate degree at Columbia University where he studied Russian and Chinese language.
Dr. Ward brings a unique perspective on China, India, and US-China strategic competition to global audiences and businesses given his background of on-the-ground global travel, foreign languages, scholarly work, and extensive geopolitical consulting for large organizations. He lived and traveled globally for over a decade, in China, India, Russia, Latin America, Europe, and the Middle East. He speaks Chinese, Russian, Spanish, and Arabic.
Dr. Ward has consulted for the US Department of Defense, Fortune 500 corporations, and leading asset managers on US-China global competition and Chinese grand strategy. He is a frequently invited speaker for government, military, industry, and financial audiences. He has briefed the US Defense Intelligence Agency, US Indo-Pacific Command, the US Department of Commerce, US Strategic Command, the US Department of Homeland Security, the US Chamber of Commerce, the House Foreign Affairs Committee, and the diplomatic missions of India, the United Kingdom, and Australia to the US, as well as leading corporations in the defense, aerospace, technology, financial services, telecommunications, automotive, and industrial sectors.
In January 2020, Dr. Ward was commended by the President of the United States in his remarks to industry leaders at the White House at the signing ceremony of the US-China Phase One Trade Deal. He was recently selected for the Stephen M. Kellen Term Member Program at the Council on Foreign Relations and is a member of the Next Generation National Security Leaders Program at the Center for a New American Security in Washington, DC.
May 7 | World Affairs Council of Hilton Head | Mathew Burrows
Recent years have seen the old Communist enemies grow closer five decades after Kissinger's opening to China. Are we back to a new Cold War with the US and the West facing a united Russo-China front? Both Moscow and Beijing share a deep resentment against Washington, propounding an alternative vision of non-US-dominated world order. But, in a switch, is Moscow willing to be the junior partner to China? Or is a growing friendship a tactical move until Russian sanctions are dropped and China attains better terms with the US? A real alliance or a marriage of convenience?
May 7 | World Affairs Council of Hilton Head | Matthew Kroenig
The United States of America has been the most powerful country in the world for over seventy years, but recently the U.S. National Security Strategy declared that the return of great power competition with Russia and China is the greatest threat to U.S. national security. Further, many analysts predict that America's autocratic rivals will have at least some success in disrupting-and, in the longer term, possibly even displacing-U.S. global leadership.

Matthew Kroenig, author of The Return of Great Power Rivalry, will discuss how this conventional wisdom is wrong. Drawing on an extraordinary range of historical evidence and the works of figures like Herodotus, Machiavelli, and Montesquieu and combining it with cutting-edge social science research, Matthew Kroenig advances the riveting argument that democracies tend to excel in great power rivalries. He contends that democracies have unique economic, diplomatic, and military advantages in long-run geopolitical competitions. He considers autocratic advantages as well but shows that these are more than outweighed by their vulnerabilities. Kroenig then shows these arguments through the seven most important cases of democratic-versus-autocratic rivalries throughout history, from the ancient world to the Cold War. Finally, he analyzes the new era of great power rivalry among the United States, Russia, and China through the lens of the democratic advantage argument. By advancing a "hard-power" argument for democracy, Kroenig demonstrates that despite its many problems, the U.S. is better positioned to maintain a global leadership role than either Russia or China.
May 20 | World Affairs Council of Orange County | Webinar with Prof. Ziblatt and Prof. Levitsky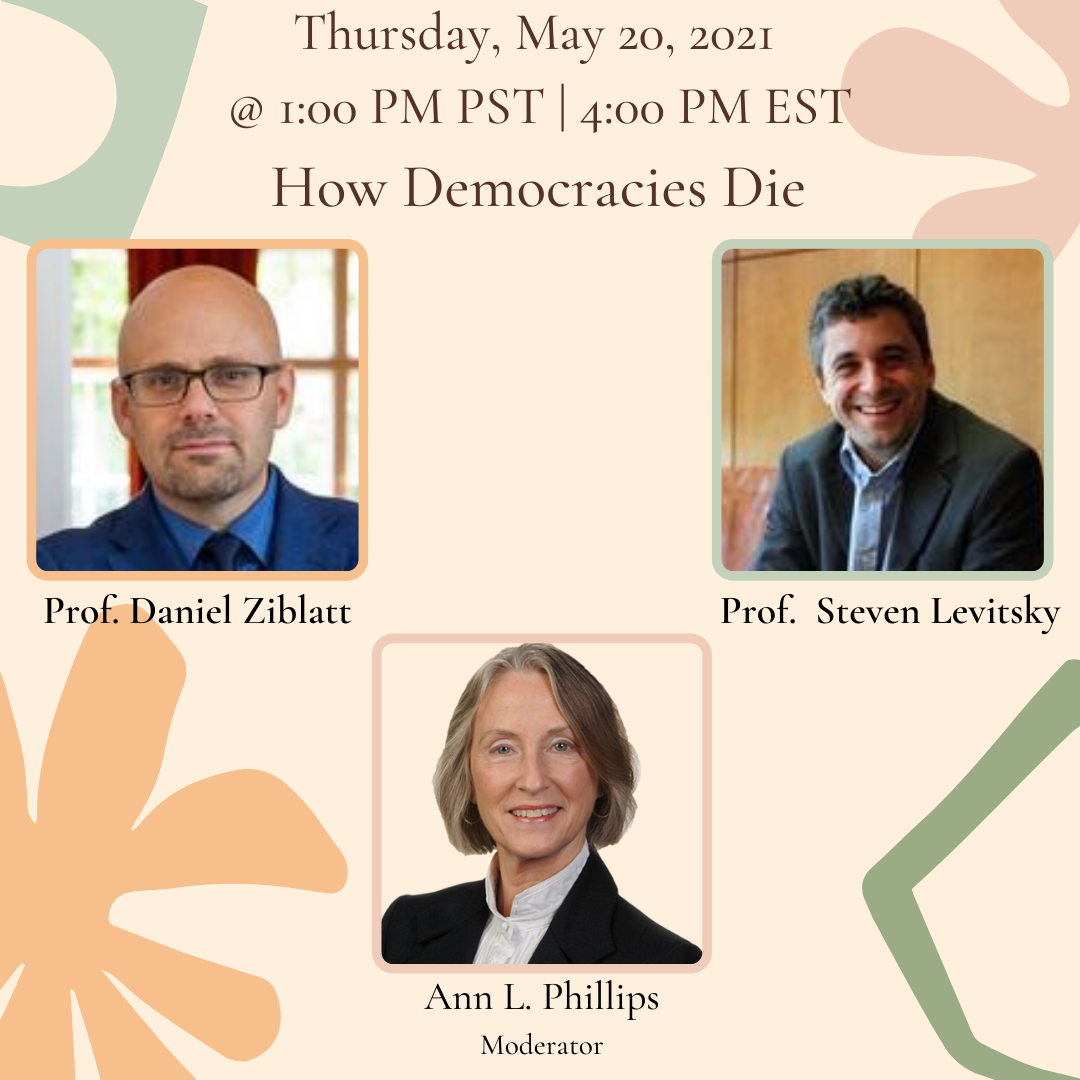 Thursday, May 20, 2021 @ 1:00 PM PST | 4:00 PM EST
The World Affairs Council of Orange County Presents: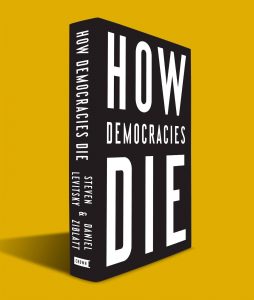 NEW YORK TIMES BESTSELLER • "Comprehensive, enlightening, and terrifyingly timely."—The New York Times Book Review (Editors' Choice)

WINNER OF THE GOLDSMITH BOOK PRIZE • SHORTLISTED FOR THE LIONEL GELBER PRIZE • NAMED ONE OF THE BEST BOOKS OF THE YEAR BY
The Washington Post • Time • Foreign Affairs • WBUR • Paste
Praise for How Democracies Die
How Democracies Die: What History Reveals About Our Future

"If you only read one book for the rest of the year, read How Democracies Die. . .This is not a book for just Democrats or Republicans. It is a book for all Americans. It is nonpartisan. It is fact based. It is deeply rooted in history. . . The best commentary on our politics, no contest."—Michael Morrell, former Acting Director of the Central Intelligence Agency (via Twitter)

"A smart and deeply informed book about the ways in which democracy is being undermined in dozens of countries around the world, and in ways that are perfectly legal."—
Fareed Zakaria, GPS, CNN
"Two years ago, a book like this could not have been written: two leading political scientists who are expert in the breakdown of democracy in other parts of the world using that knowledge to inform Americans of the dangers their democracy faces today. We owe the authors a debt of thanks for bringing their deep understanding to bear on the central political issue of the day." —Francis Fukuyama, John's Hopkins SAIA and author of Political Order and Political Decay.
Daniel Ziblatt is Eaton Professor of the Science of Government at Harvard University and resident faculty at the Minda de Gunzburg Center for European Studies (CES). At CES, he co-chairs the Seminar on Democracy – Past, Present, Future.
Ziblatt specializes in the study of European politics, state-building, democratization, and historical political economy. His latest book How Democracies Die (co-authored with Steven Levitsky) was on the New York Times bestseller list and has been translated into 22 languages.
His second book Conservative Parties and the Birth of Democracy (2017) offers a new interpretation of the historical democratization of Europe, drawing lessons for new and old democracies under siege today. His book Structuring the State: The Formation of Italy and Germany and the Puzzle of Federalism (2006) draws lessons from nineteenth century experiences of state-building in Italy and Germany.In recent years he has been a fellow or visiting professor at the European University Institute (Florence, Italy), Center for Advanced Study (Stanford), Max Planck Institute (Cologne), University of Munich, and the Ecole Normale Superieure (Paris).
Steve Levitsky is a professor of government at Harvard University and coauthor of the 2018 New York Times bestseller How Democracies Die, with Daniel Ziblatt. In it, they argue that democracies die not because of revolutions or military coups, but due to the slow weakening of critical institutions and the gradual erosion of political norms.
Levitsky is a former Kellogg visiting fellow and an expert on Latin American politics. His research interests include political parties, authoritarianism and democratization, and weak and informal institutions. He is researching the durability of revolutionary regimes, the relationship between populism and competitive authoritarianism, problems of party-building in contemporary Latin America, and party collapse and its consequences for democracy in Peru.
He is co-author, with former Kellogg Visiting Fellow Lucan Way, of Competitive Authoritarianism: Hybrid Regimes after the Cold War (2010); author of Transforming Labor-Based Parties in Latin America: Argentine Peronism in Comparative Perspective (2003); and co-editor of The Resurgence of the Left in Latin America (2011), Informal Institutions and Democracy: Lessons from Latin America (2006), and Argentine Democracy: The Politics of Institutional Weakness (2005).
He has contributed to a number of Kellogg Working Paper Series and to volumes resulting from Kellogg conferences, including Party Systems in Latin America: Institutionalization, Decay and Collapse, edited by Scott Mainwaring, former director of the Kellogg Institute (Cambridge University Press, 2018).
Ann L. Phillips is the senior advisor to the Nagorno-Karabakh Project, part of the Inclusive Peace Processes program at USIP. In addition to ongoing research and writing, she has drafted a conflict assessment, helped develop the workshop agenda for journalists from the region, and worked on other options for engagement.
Previously, she was senior advisor to USIP's civilian-military relations program, which focused on improving the effectiveness of civilian and military actors working in the same conflict-affected or fragile state. In addition, she co-led workshops in the ACOTA program for African Union peacekeepers and led the governance module for the Ministry of Defense Advisory program for U.S. advisors detailed to foreign countries.
From 2007 until 2011, Phillips developed and directed the Program for Security, Stability, Transition & Reconstruction at the George C. Marshall European Center for Security Studies in Garmisch-Partenkirchen, Germany. Before that, she was a senior political economist in the Policy and Program Coordination Bureau at USAID and was detailed to the Office of the Director of Foreign Assistance, Department of State, as a senior policy analyst and country team leader between 2006-2007.
Prior to joining the government, Phillips was a faculty member at American University and Smith College; Fulbright professor at the Friedrich Schiller Universität; and guest professor at the University of Rostock. She earned a doctorate from Georgetown University in international relations and comparative politics with a regional concentration on the former Soviet Union and Eastern Europe, as well as a master's in international relations from Johns Hopkins University.