Sign In to the Member Section
June 2021 Events
June 2 | Los Angeles World Affairs Council & Town Hall | Notre-Dame de Paris
On April 15, 2019, the world watched in horror as Notre-Dame Cathedral burned. Almost as quickly as the flames were extinguished, there was a huge international outpouring of support with the pledge to rebuild Notre-Dame.
On this livestream, we are joined by Michel Picaud, President of Friends of Notre-Dame de Paris, and Professor Stephen Murray, Lisa and Bernard Selz Professor Emeritus of Medieval Art at Columbia University and a world-renowned expert on Gothic architecture. Led in conversation by Emily Sottile, Director of the Sacred Space Studio at EverGreene Architectural Arts, they will discuss the vast and complex restoration efforts to Notre-Dame.
Originally built in 1260, the conversation will address how the restoration will make the building more resilient, eco-conscious, and able to last another millennium. They will also broaden the discussion to grapple with the relationship between architecture and a place's identity, as well as what wisdoms the restoration of Notre-Dame can provide to modern architects, builders, and environmentalists around the world.
You can learn more about the Notre-Dame restoration project by visiting: https://restorenotredame.org
And: https://www.friendsofnotredamedeparis.org
A special thank you to Consul General Julie Duhaut-Bedos and the French Consulate of Los Angeles.
June 3 | World Affairs Council of Western Michigan | Fighting Global Corruption
The cost of corruption globally is high, not just monetarily but socially as well. Corruption erodes public trust, undermines rule of law, degrades public services, and creates opportunities for crime including trafficking.
Join us for a conversation with Alex Covington on efforts by the U.S. State Department to tackle global corruption and how these efforts protect U.S. interests and citizens domestically and abroad.
Alex Covington is the Special Advisor for Anticorruption and Open Government at the State Department's Bureau of Democracy, Human Rights, and Labor (DRL). Located within the Office of Multilateral and Global Affairs, he is responsible for developing and implementing policy initiatives that support civil society, media, and governments in combatting corruption and making government more open and accessible. Alex represents with Department within the Open Government Partnership and, separately, spearheaded DRL's flagship anticorruption initiative, the Global Anticorruption Consortium, a multilaterally funded program that brings investigative journalists and activists together to more effectively press for and facilitate accountability. Prior to joining the Department, Alex served at Freedom House in Washington, D.C and Mexico City, and at the Organization of American States, where he supported electoral observation. He holds an MA in Policy Management from the Georgetown McCourt School and a BA in Foreign Affairs from the University of Virginia.
The Bureau of Democracy, Human Rights, and Labor (DRL): DRL promotes freedom, protects human rights, and advances transparent and accountable governance worldwide as a means of preventing and combating corruption. DRL leads U.S. government engagement in the Open Government Partnership (OGP) and provides assistance to civil society organizations fighting corruption. Read more about DRL.
This program is part of outreach by the U.S. Department of State's Office of Public Liaison, which connects the Department's foreign policy experts with domestic audiences across the country to facilitate dialogue on foreign policy priorities and the importance of diplomacy.
June 3 | World Affairs Council of New Hampshire | GTP: The US-China Strategic Economic Competition
On Thursday, June 3rd at 6pm, join us in partnership with U.S. Department of State's Office of Public Liaison for the final installment in our Spring Global Tipping Points speaker series, The US-China Strategic Economic Competition. From the World Trade Organization and International Monetary Fund, to the Belt and Road Initiative and the Trans-Pacific Partnership, the United States and China are the world's economic superpowers and both leverage their economic weight to bend the world towards their ideals. Tune in as Valerie Santos, Foreign Service Officer with the State Department's Office of Chinese and Mongolian Affairs, discusses this U.S.-Chinese economic and financial competition on a global scale from the perspective of the American Foreign Service.
June 3 | Los Angeles World Affairs Council & Town Hall | SPACs
Special Purpose Acquisition Companies, known as SPACs saw explosive growth in 2020 and strong volume this year in the first quarter. SPAC stocks raised a record $76.2 billion in 2020, up 557% from 2019. SPAC stocks have delivered average annualized returns of about 17.5% since 2015. SPACs exist solely to acquire other companies, while providing another option for sellers and a pathway for private companies to tap public equity markets. Who are these innovative, futuristic companies? Are SPACs better than IPOs (Initial Public Offering)? Which private companies are SPAC-worthy?
Join us for this livestream presentation and discussion hosted by Los Angeles World Affairs Council & Town Hall corporate member, KPMG LLP. A short presentation will be given by Shari Mager, KPMG Advisory Partner, followed by a moderated discussion led by Michelle Wroan, KPMG Los Angeles Managing Partner and LAWACTH board member, with panelist, Mihir Jobalia, KPMG Corporate Finance Managing Director.
LAWACTH Members can submit their questions early by sending them to Krystsina Shabanava at kshabanva@lawacth.org.
June 7 | Los Angeles World Affairs Council & Town Hall | The Future of Gun Policy
The debate over gun policy in the United States has waxed and waned over the years, stirred by a rise in mass shooting. As of April 29, there have been 197 mass shootings (with 4 or more shot) in the US in 2021. Gun ownership is also on the rise, with nearly 5 million Americans purchasing a firearm for the first time in 2020, many stating they were motivated by calls for reduced police funding and personnel, the release of prisoners during COVID-19, increased wait times for emergency services, and civil unrest including riots and protests, and were seeking options for self-defense. 58 percent of firearm purchases were among African American men and women, the largest increase of any demographic group. Women comprised 40 percent of first-time gun purchasers.
Join us for this important discussion on what the future of gun policy and the 2nd Amendment will be in the United States, from a policy, constitutional, and legal perspective. Our panel includes Hannah Shearer, Litigation Director for the Giffords Law Center to Prevent Gun Violence, Eugene Volokh, Gary T. Schwartz Distinguished Professor of Law at UCLA, and Rosanna Smart, an Economist at RAND, co-author of The Science of Gun Policy.
June 16 | WorldBoston | Great Decisions: "Brexit" with Dr. Thomas Wright
The "Brexit transition period" came to an end in 2020 and paved the way for the United Kingdom's formal exit from the European Union at the start of 2021. Now, after the formal exit, what does the future of Europe and the UK look like? Will the UK survive a possible Scottish vote to leave? And who will step up and take command of Europe now, as Angela Merkel steps down and is out of the spotlight? Join us on Wednesday, June 16th at 6pm to address these questions and more in a discussion with Dr. Thomas Wright.
Thomas Wright is the director of the Center on the United States and Europe and a senior fellow in the Project on International Order and Strategy at the Brookings Institution. He is also a contributing writer for The Atlantic and a nonresident fellow at the Lowy Institute for International Policy. He is the author of "All Measures Short of War: The Contest For the 21st Century and the Future of American Power" which was published by Yale University Press in May 2017. His second book, "Aftershocks: Pandemic Politics and the End of the Old International Order," will be published by St Martin's Press in 2021. Wright also works on U.S. foreign policy, great power competition, the European Union, Brexit, and economic interdependence.
Wright has a doctorate from Georgetown University, a Master of Philosophy from Cambridge University, and a bachelor's and master's from University College Dublin. He has also held a pre-doctoral fellowship at Harvard University's Belfer Center for Science and International Affairs and a post-doctoral fellowship at Princeton University. He was previously executive director of studies at the Chicago Council on Global Affairs and a lecturer at the University of Chicago's Harris School for Public Policy.
Learn more about our upcoming Great Decisions event and register here: https://www.worldboston.org/calendar/2021/6/16/great-decisions-brexit-taking-stock-and-looking-ahead
June 16 | Los Angeles World Affairs Council & Town Hall | Looking Beyond a Two-State Solution
For decades, a two-state solution has been the prevailing potential solution to the Israeli-Palestinian conflict. However, there is now growing doubts about the viability of the two-state solution. If the two-state solution continues to lose its ideological dominance, what other possible alternatives could succeed, if appropriately supported by the international community?
To tackle the complex conundrum of the Israeli-Palestinian conflict, we're bringing together two experts with key insights on alternatives to the two-state solution. Daniel Egel, senior economist at RAND, will share his research on the viability of five alternatives: the status quo, the two-state solution, a confederation, annexation, and a one-state solution. His work is based on the feedback of West Bank Palestinians, Gazan Palestinians, Israeli Jews, and Israeli Arabs. Khaled Elgindy, former advisor to Palestinian leadership in Ramallah and senior fellow at the Middle East Institute, will discuss the blind spots of the international community on the conflict and emerging models of Palestinian governance. The discussion will be moderated by Dan Schnur, Politics Professor at USC, UC-Berkeley, and Pepperdine University.
June 17 | Los Angeles World Affairs Council & Town Hall | Latin America's Changing International Role
Join us on May 27th for a conversation with Abe Lowenthal, Professor Emeritus of International Relations at USC Dornsife. Professor Lowenthal is an expert on policy issues in US-Latin American relations and will join us too discuss Latin America's changing international role — both analyzing the future of US-Latin American relations and the role of other international influences on the region.
Professor Lowenthal will will be in conversation with Robert J. Abernethy, LAWACTH Board Member, Chairman of the American Standard Development Company, and Vice Chairman of the Atlantic Council. Their discussion will tackle the prospects of democratic governance in in Latin America and the Caribbean as well as assessing California's role on the global stage.
June 21 | World Affairs Council of Western Michigan | 2021 Vandenberg Prize to General James Mattis
GENERAL JAMES MATTIS TO BE AWARDED THE 2021 VANDENBERG PRIZE
June 1, 2021
Grand Rapids, Mich.--The World Affairs Council of Western Michigan (WACWM) has announced its Vandenberg Prize will be awarded to General James N. Mattis, who served as the 26th Secretary of the Defense (2017-18). In addition, General Mattis was the Commander of the U.S. Central Command (2010-13), the Commander of the U.S. Joint Forces Command (2007-10), and the Supreme Allied Commander Transformation (2007-09), among other leadership positions.
The Vandenberg Prize is given annually to a national or international leader who has been influential in developing global understanding and collaboration on the world stage.
General Mattis completed a sterling 43-year career in the Marine Corps, serving in command positions in Iraq and Afghanistan. The general's recent book, Call Sign Chaos: Learning to Lead details his career and vision of leadership.
General Mattis will receive the Vandenberg Prize on Monday, June 21, at a 12 noon virtual event, with a conversation on the military, diplomacy, and global engagement moderated by Congressman Peter Meijer (MI-3), himself a veteran of the conflicts in Iraq and Afghanistan.
The public can register for the event at www.worldmichigan.org/vandenberg2021.
The Vandenberg Prize is named after Michigan Senator Arthur Vandenberg (1881-1951), the inspiration for founding the Council in 1949 by Grand Rapids attorney (and later Federal Judge) Douglas Hillman and businessman Edgar Orr. The first recipient of the Prize, in 2020, was to Ambassador (ret.) Jon M. Huntsman, Jr.
"General Mattis has always upheld the notion that America must lead in diplomacy and international collaboration, that peace won at the diplomatic table was much preferrable to peace won because of the sacrifice of our men and women in uniform," said Council executive director Michael Van Denend. "We are honored to highlight the General's service to the country and the world."
In addition, the Council will present the annual Hillman-Orr Award to the late Ambassador (ret.) Peter F. Secchia, former Ambassador to Italy and San Marino and president and chairman of the board of UFP Industries. Ambassador Secchia passed away on October 21, 2020 but was aware of the award before his passing.
The Hillman-Orr Award goes to a West Michigan individual or institution that mirrors the intent of the Council's founding leaders to bring global awareness and international understanding to the West Michigan community.
"There was no hesitation among the board of directors about this year's Hillman-Orr Award," said Council board president Dick Gauthier. "Peter's service to country and skill in developing a global business that brought the world to our community is inspiring."
Hillman and Orr were inspired by the life and work of Senator Vandenberg, an isolationist who became a strong advocate of internationalism in the wake of World War II. Vandenberg forged bipartisan support for the Marshall Plan and NATO and was appointed one of the first U.S. delegates to the brand-new United Nations. Senator Vandenberg has always been considered the "patron saint" of the Council.
The Council is grateful for a formational gift by The Meijer Foundation to launch this special recognition of the importance of global connectedness to West Michigan along with longtime World Affairs Council corporate supporters Amway and Bank of America.
More information on the Vandenberg Prize and free registration for the event can be found at www.worldmichigan.org/vandenberg2021or by calling Michael Van Denend at 616.481.9569.
June 24 | Los Angeles World Affairs Council & Town Hall | The Honorable Gray Davis
The Los Angeles World Affairs Council & Town Hall and Writers Bloc Present Former California Governor Gray Davis and Jerry Brown biographer Jim Newton
Since the coronavirus' outbreak last spring, Californians, as citizens of the most populous U.S. state, have witnessed a multitude of demanding, complex issues that continue to challenge our State's leaders, regardless of industry or sector. Governor Newsom faced catastrophic natural disasters and pandemic, and a statewide shutdown with devastating social and economic realities. California governors have endured a great deal throughout our almost 200-year history. From an historical perspective, what, if anything, makes this crisis for Newsom different from other crises faced by former California governors? Through a historical lens, how has political messaging looked– and evolved– through major crises? Besides California, recall attempts are taking place, for example, in Alaska, Arizona, Louisiana and Michigan. Is this a new reality elected office holders must now expect? Is direct democracy growing as a strategy of responsive changes that citizens want?
Gray Davis, a Democrat, served as the Governor of California from 1999-2003. He was recalled, replaced in Sacramento by Republican Arnold Schwarzenegger. Jim Newton is an award-winning journalist, and the author of Man of Tomorrow: The Relentless Life of Jerry Brown, the brilliant biography of former Governor Jerry Brown.
June 24 | World Affairs Council of Orange County | Webinar with Ambassador David H. Shinn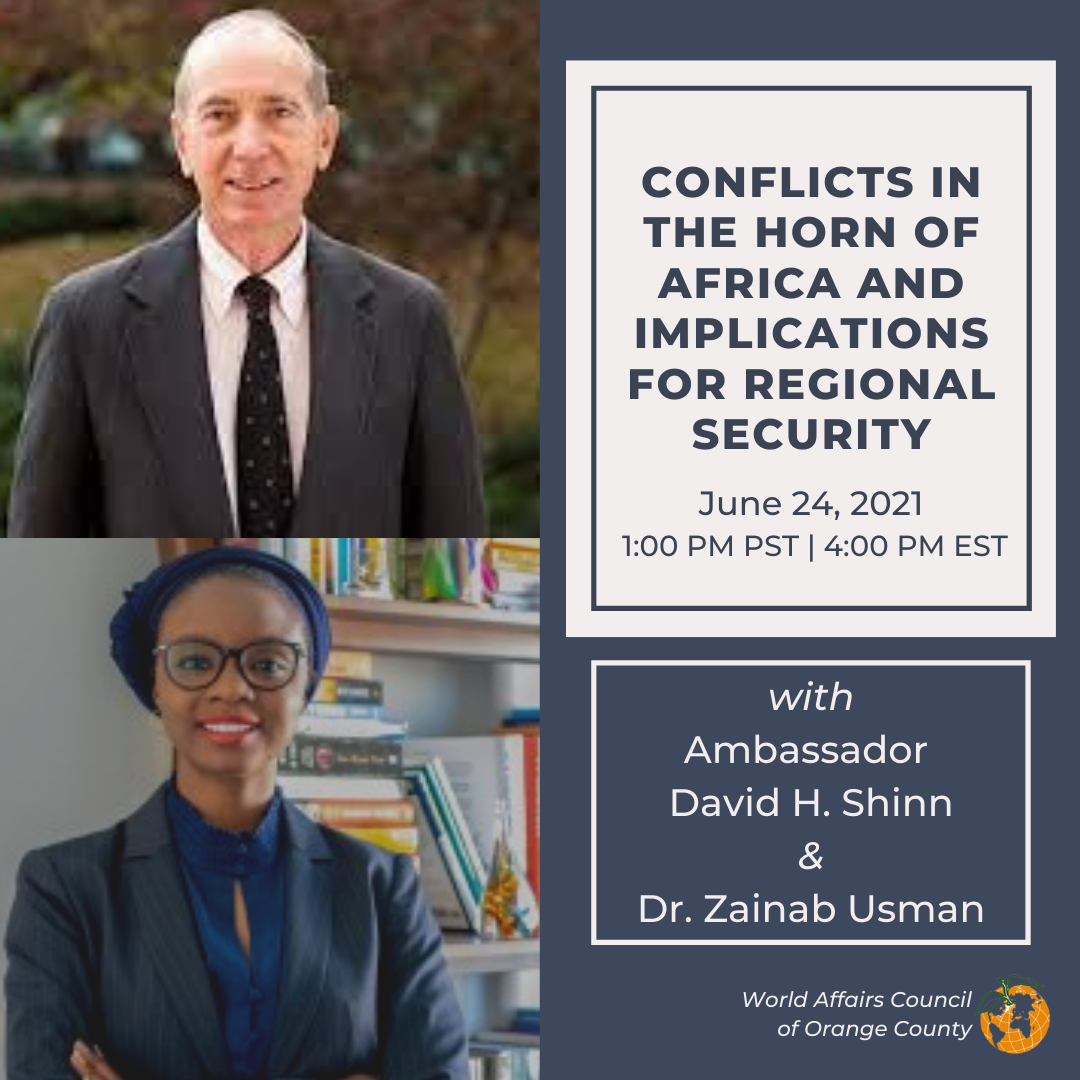 Thursday, June 24, 2021 @ 1:00 PM PST | 4:00 PM EST
The World Affairs Council of Orange County Presents:
Conflicts in the Horn of Africa and Implications for Regional Security
Ambassador David H. Shinn was a Foreign Service Officer with US Department of State for 37 years, including assignments as ambassador to Burkina Faso and Ethiopia. Ambassador Shinn is an adjunct professor of international affairs at The George Washington University and received his BA, MA, and PhD from The George Washington University.

He has a certificate in African studies from Northwestern University. During his tenure in the US Foreign Service, he had assignments at embassies in Lebanon, Kenya, Tanzania, Mauritania, Cameroon, and Sudan, outside of his duties as ambassador.
He has been teaching at the Elliott School since 2001 and serves on a number of boards of non-governmental organizations. An expert on the Horn of Africa, Dr. Shinn speaks at events around the world.
He is the coauthor of China and Africa: A Century of Engagement (2012), the Historical Dictionary of Ethiopia (2013), Hizmet in Africa: The Activities and Significance of the Gulen Movement (2015), and has authored numerous articles and book chapters.
His research interests include China-Africa relations, Chinese diplomacy, East Africa and the Horn, terrorism, Islamic fundamentalism, conflict situations, US policy in Africa, and the African brain drain. He speaks several languages including English, French, and Swahili.
Dr. Zainab Usman is a senior fellow and director of the Africa Program at the Carnegie Endowment for International Peace in Washington, D.C. Her fields of expertise include institutions, economic policy, energy policy, and emerging economies in Africa. Her forthcoming book, Economic Diversification in Nigeria: The Politics of Building a Post-Oil Economy, is set to be published by Zed/Bloomsbury Press in November 2021.
Prior to Carnegie, Usman was at the World Bank initially as part of the prestigious Young Professionals Program and later as a public sector specialist. At the World Bank, she worked on social sustainability, policy reforms, natural resources management, and disruptive technologies. She has worked on these issues in Cote d'Ivoire, Morocco, Nigeria, Papua New Guinea, the Republic of Congo, Serbia, Tanzania, and Uzbekistan. She has also worked at the Blavatnik School of Government at the University of Oxford and has consulted for the Department of International Development (DfID) and the Office of the National Security Adviser (ONSA) in Nigeria.
Usman's research has been published on various academic, policy, and media platforms. She is co-editor of the book, The Future of Work in Africa: Harnessing the Potential of Digital Technologies for All. She also contributed to World Bank's flagship report on Rethinking Power Sector Reforms in Developing Countries. Usman's other analytical pieces have been published with the journal of African Affairs, the World Bank's Policy Research and Working Paper Series, and as book chapters in edited volumes with Oxford University Press and James Currey. Her written and broadcast commentary has appeared in Al-Jazeera English, African Arguments, CNN, and Washington Post, among others.
She sits on the advisory board of the Energy for Growth Hub in Washington, D.C., and on the editorial board of Premium Times in Nigeria.